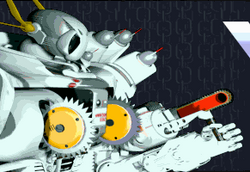 Vitriol is a character in the Rise of the Robots fighting game series. He is a clone version of Steppenwolf with some elements taken from Detain. Vitriol is likened to a tank, with heavy armour and guns and the colour is white.
He is one of the few characters, debuting in Rise 2: Resurrection as a secret character. To fight Viriol, you have to face him if you can be undefeatable after six battles.
Biograpies
Rise 2: Resurrection "Like previous modified Steppenwolf, while also some element of Detain, Vitriol is an upgraded special military specification robot with a weaponry pack of twin arm-built-in chain saws, one buzz saw and portable missile pods. Like Steppenwolf, Vitriol is dependent on the "Smartex" A-Virus substitute. Vitriol is an unstable unit who knows all robots exist only for target advanced."
Community content is available under
CC-BY-SA
unless otherwise noted.