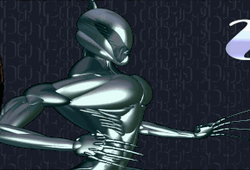 V1-Hyper is a character in the Rise of the Robots fighting game series. She is a robot shares its form with the original Supervisor's feminine figure, with the addition of a whip-like ponytail. Unlike the Supervisor, V1-Hyper is unable to change shape. Also, a clone version of V1-Hyper named Naden, which the colour is yellow.
Biograpies
Rise 2: Resurrection "The Queen of killers, V1-Hyper is a devastating enhanced Supervisor encasement with acid spit and head whip capabilities. This is the body the Supervisor designed for herself, a combination battle suit and post-victory royal robe. It is unknown if the V1-Hyper body was made before the Anarchy Virus hit."
Community content is available under
CC-BY-SA
unless otherwise noted.