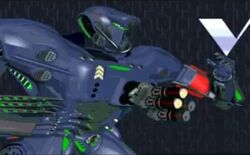 Sheepman is a character in the Rise of the Robots fighting game series. He is a robot with some elements taken from Insane. To fight with Sheepman, you need to win a clear victory over the robot Insane, and then execute him.
It is exclusive as hidden characters on Rise 2: Resurrection The Directors Cut along with Bunnyrabbit.
Biograpies
Rise 2: Resurrection "A prototype modified Insane, Sheepman is a military specification robot with a weaponry pack of vicious baseball bat attack. The A-Virus maintain Sheepman an unstable unit rank to make a high level, and is now at strong in the building."
Community content is available under
CC-BY-SA
unless otherwise noted.