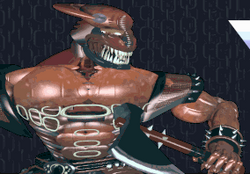 Mayhem is a character in the Rise of the Robots fighting game series. He is a huge robot and unbalanced brown robot with extremely powerful moves and a funky stage on top of a huge electric guitar. It has a dual axe, wears spiked armour and metallic sharp teeth.
He is one of the few characters, debuting in Rise 2: Resurrection as a secret character. To fight Mayhem, you have to face him if you can be undefeatable through all of the characters before you face the Supervisor.
Biograpies
Rise 2: Resurrection "Mayhem is a brute robot and unbalanced robot with extremely powerful moves, and which can communicate guitar vocal. It has a dual axe and wears spiked shoulder, leg, thigh, and wrist armour. The body contains oil that spits with, so the Anarchy-Virus have accessed Mayhem's database which mentioned as a "Post apocalyptic" and "War apocalyptic", part of the supervisor's creation and also the second in command."
Trivia
Mayhem is the only robot who always fights at it's stage.

It is also Mayhem's stage who plays guitar vocal theme.

When defeating Mayhem, it will explode at the end of every round.
Community content is available under
CC-BY-SA
unless otherwise noted.