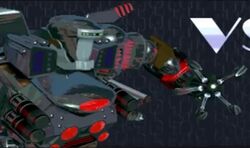 Bunnyrabbit is a character in the Rise of the Robots fighting game series. He is a robot with some elements taken from Chromax. To fight with Bunnyrabbit, you need to win a clear victory over the robot Chromax, and then execute him.
It is exclusive as hidden characters on Rise 2: Resurrection The Directors Cut along with Sheepman.
Biograpies
Rise 2: Resurrection "Bunnyrabbit is a prototype specification Chromax tooled with devastating light weaponry servo-generations. A Military modifier, internalizer and destroyer of enemy machinery, the post A-Virus Bunnyrabbit feed off machine dismemberment. He flash-freezes moving objects prior to dispersing bodies for consumption."
Community content is available under
CC-BY-SA
unless otherwise noted.